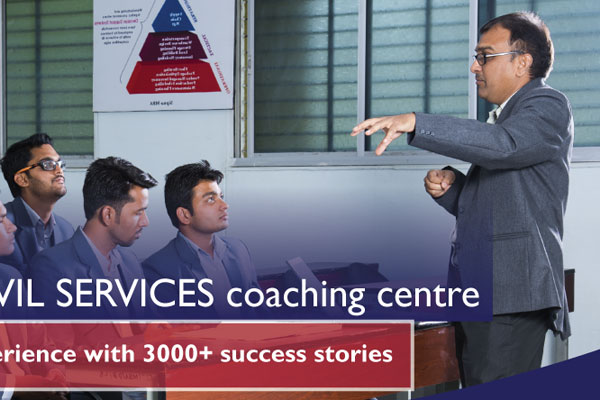 About Hyderabad Study Circle
The Hyderabad Study Circle was established in December 1976 by a group of well meaning Civil Servants and Academicians with the objective of encouraging young men and women, especially from Andhra Pradesh, to take up Civil Services as a career; it is the first institution of its kind in Andhra Pradesh. It is a registered not-for-profit society. The General Body, which consists largely of its Alumni, elects the Executive Committee for a period of five years. The Executive Committee, comprising of serving and retired civil servants and members of the alumni runs the Study Circle.
A tradition of excellence
The Hyderabad Study Circle has completed 38 years of service to the student community. The institution has successfully enabled more than 3000 young men and women to join the All India, Central Civil Services and the State Group - I services.
Modern infrastructure
The Study Circle takes pride in its own premises with the most modern infrastructure including a vast library and a sophisticated computer lab. The dedication of the Executive Committee and the devotion of the talented faculty besides the unstinting support of the non-teaching staff have helped the institution not only to survive but to thrive in realizing the ideals for which it was established.
President's Message
It is a matter of great satisfaction that the Hyderabad Study Circle (HSC)has completed over 4 decades of service to the boys and girls of this State and City. Over the years, about a thousand candidates have qualified for the Civil Services. This is precisely what the Hyderabad Study Circle set out to do in the year of its inception.
The Study Circle realised its aim by catapulting the State to be among the top three or four States contributing to Union Civil Services. The Study Circle has its own premises and has an excellent Library and a state-of-the-art Computer Lab.
I am fortunate to have been associated either as President or Vice-President since the inception of this Institution. It has given me great satisfaction that Icould be of some service to the student community. I am confident that given its dedicated teachers, the HSC will go a long way in achieving its cherished goals.